Geelong Cup Preview
The Geelong Cup is a Group 3 open handicap race held annually midweek on a Wednesday each October at Geelong racecourse during the Melbourne spring racing carnival. The race is run over a distance of 2400 metres and worth $400,000 in prize money. The 2019 Geelong Cup was won by Prince Of Arran from True Self with Haky third.
The Geelong Racing Club is located about 72 kilometres south-west of Melbourne and is one of the major country cups held outside of the metropolitan area during the spring.
Geelong Cup info
Track:
Geelong racecourse, Geelong
Distance:
2400 metres
Race Type:
Open Handicap
Status:
Group 3
Prize Money:
$400,000
2019 Winner:
Prince Of Arran
Geelong Cup odds
The Geelong Cup is usually a very strong country cup with multiple winners in recent times going on to be run very well in the Melbourne Cup. The race tends to attract good class city gallopers who might be heading on to the big race on the first Tuesday in November.
International horses often use the Geelong Cup as a final tune-up for the better spring races ahead, especially on the first Tuesday in November. In the past few years this race has grown in stature and assembled fields worthy of city class racing.
Prince Of Arran (2019) finished second in the Group 3 Herbert Power Stakes over 2400m at Caulfield before scoring a narrow victory in this event for UK based trainer Charlie Fellowes.
Recent Geelong Cup winners include Runaway (2018) and Vengeur Masque (2017).
Spring Carnival Guide
The Geelong Cup has been a reasonable guide to the Melbourne Cup in recent years with Dunaden (2011), Americain (2010) and Media Puzzle (2002) winning our most famous race after taking out this event.
Crime Scene (6th in 2009) finished runner-up to Shocking in the 2009 Melbourne Cup after running in the Geelong Cup beforehand, while Bauer (2008) was beaten by the narrowest margin in the Melbourne Cup at his next run.
Earlier, On A Jeune (2005) ran second in the 2005 Melbourne Cup, Zazzman (2003) ran third in the 2004 Melbourne Cup, while She's Archie (2nd in 2003) went on to run second to Makybe Diva in that year's Melbourne Cup.
Outside the Melbourne Cup, the Michael Moroney trained Vengeur Masque ran second in the Gr3 Hotham Handicap and won the Gr3 VRC Queen Elizabeth Stakes during the Melbourne Cup Carnival at Flemington. Classy international stayer Oceanographer (3rd in 2016) scored an outstanding victory in Hotham Handicap and ATB's Dandino (2nd in 2015) took out the VRC Queen Elizabeth Stakes.
Tanby (2nd in 2011) won the listed Bendigo Cup at Bendigo at his next start and Moatise (2nd in 2008) went on to win the Hotham Handicap at Flemington. Cast a keen eye over this race in late October if history is any guide.
Geelong Cup Day Info
General admission: $30.00
Concession: $20.00
(Aged, TPI & Disability card holders only, concession does not include student concession)
Geelong Racing Club
99 Breakwater Road, Breakwater, Victoria 3219
Postal Address
PO Box 1818, Geelong, Victoria 3220
Tel: 03 5229 4414
Geelong Track Map
Geelong race track has two courses - Grass and ThoroughTrack.
Grass Track
The Grass track has a spacious circuit with wide sweeping turns and a circumference of 2043 metres and a long straight of 400 metres. Most starts have a field limit of 16 when the rail is in the true position. Overall it is an excellent wet weather racing surface.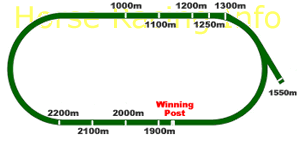 ThoroughTrack
Is a 16m wide synthetic track with a circumference of 1858 metres and a straight length of 332 metres with the rail permanently in the true position. The 1550m start begins on the grass surface and horses cover approximately 60m on the grass track before they reach the ThoroughTrack. Fields are limited to 12 from all starts except 1550m which is 10 horses.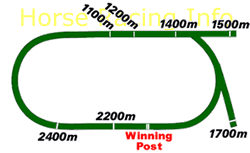 2019 Geelong Cup result
1. $4.20 Prince Of Arran 58.0 Michael Walker
2. $4.60 True Self 56.5 John Allen
3. $26.00 Haky 57.0 Ms Linda Meech
then followed
4. $26.00 Red Cardinal 58.0 Kerrin McEvoy
5. $13.00 Red Galileo 57.5 Patrick Cosgrave
6. $5.50 Supernova 54.0 Dwayne Dunn
7. $6.00 Steel Prince 57.5 Damien Oliver
8. $21.00 Grey Lion 57.5 Craig Williams
9. $31.00 Neufbosc 58.0 Luke Currie
10. $10.00 Dal Harraild 57.5 Mark Zahra
11. $101.00 Muntahaa 58.0 Luke Nolen
Margins: 0.2 len, 1.7 len
Time: 2:26.84
Bet now on the Geelong Cup
We recommended Unibet for the best Geelong Cup odds.

Terms & conditions apply - Always gamble responsibly.
Geelong Cup winners & placegetters
| | | | | |
| --- | --- | --- | --- | --- |
| 2019 | Prince Of Arran | True Self | Haky | 2:26.8 |
| 2018 | Runaway | Northwest Passage | Finche | 2:28.4 |
| 2017 | Vengeur Masque | Gallic Chieftain | Violate | 2:29.3 |
| 2016 | Qewy | Grey Lion | Oceanographer | 2:28.9 |
| 2015 | Almoonqith | Dandino | Manndawi | 2:28.9 |
| 2014 | Caravan Rolls On | Marksmanship | Like A Carousel | 2:31.2 |
| 2013 | Ibicenco | Verdant | Moudre | 2:35.1 |
| 2012 | Gatewood | Chateau Margaux | Brigantin | 2:34.1 |
| 2011 | Dunaden | Tanby | Bauer | 2:30.1 |
| 2010 | Americain | Moudre | Exceptionally | 2:30.3 |
| 2009 | Leica Ding | Dandaad | Sterling Prince | 2:27.5 |
| 2008 | Bauer | Moatize | Magic Instinct | 2.30:1 |
| 2007 | The Fuzz | Zavite | Desert Master | 2:27.0 |
| 2006 | Mandela | Vanquished | Dacs Back | 2:28.2 |
| 2005 | On A Jeune | Brave Lancer | Men At Work | 2:26.7 |
| 2004 | Pacific Dancer | Devastating | Diamond Jake | 2:26.5 |
| 2003 | Zazzman | Shes Archie | Tumeric | 2:30.0 |
| 2002 | Media Puzzle (USA) | Requiem | Donarch | 2:25.9 |
| 2001 | Karasi (Ire.) | Maythehorsebewithu | Scrumptious | 2:32.0 |
| 2000 | Savrocca | Apache King | Bulkhead | 2:29.9 |
| 1999 | Bohemiath | Oregon Star | Lady Elsie | 2:29.1 |
| 1998 | Ancient City | Oregon Star | True And Easy | 2:27.8 |
| 1997 | Oregon Star | Scrupulous | Sunny Lane | 2:31.1 |
| 1996 | Hereditas | Aphasia =2 | True Identity =2 | 2:28.9 |
| 1995 | Anfitrion | Section | Coachwood | 2:30.7 |
| 1994 | Grass Valley | Toll Bell | Paxmat Will | 2:30.5 |
| 1993 | Ultimate Aim | Kawtuban | Ancient Ritual | 2:28.8 |
| 1992 | Ali Boy | Notwithstanding | Mr. Eurostar | 2:30.2 |
| 1991 | Newbury Star | Karawin | Diego | 2:27.2 |
| 1990 | Mr Brooker | Spring Thaw | Fame The Spur | 2:29.3 |
| 1989 | Sea Legend =1 | Pacific Mirage =1 | Island Spy | 2:31.2 |
| 1988 | Our Classic Boy | Ebeli Show | Bronze Knight | 2:28.8 |