Betfair User Guide
Betfair has revolutionised the betting industry in this country and our Betfair User Guide shows you how to bet on the world's biggest betting exchange.
Punters have greater choice and more control at Betfair. To help you understand more about what Betfair has to offer punters, we have put together a quick guide to learn how the betting exchange works. Once you find out how Betfair puts you in charge of your betting, you'll wonder how you ever bet without it.
Backing and Laying Betfair Guide
Smart punters bet on Betfair to ensure the best odds for their bets. To ensure a long term profit, it is essential to get the best odds everytime you place a bet. Learn how to open an account, back and lay a selection, in-play betting at betfair and more.
If you prefer to try out Betfair right now and check out the user guide later, then open a new account for free on the following link. Take advantage of great odds along the way.
Try out Betfair for FREE now >>> Test Drive Betfair
Read on to learn more about Betfair.
Betfair is a Betting Exchange
Betfair is a betting exhchange, not a bookmaker, and bets are placed against fellow punters around the world.
With more than one million registered customers, Betfair is the world's Number 1 online betting exchange. A concept that the company pioneered and one that has revolutionised the wagering industry.

A betting exchange is an online marketplace where punters bet at odds set by other punters, rather than a bookmaker, bringing together people with directly opposing views.
The result? Punters get much better odds, whether you want to back a selection, lay a selection, or bet in-play, because you're betting against other punters, not a bookmaker or the tote.
How Betfair Works
A good way to understand Betfair is to think of it in similar terms to the Stock Exchange.
Just as you buy a share on the Stock Exchange if you think it's cheap. You back a selection to win with Betfair if you believe the odds are generous. And just as you sell a share when you think it's too expensive, with Betfair you lay a selection (offer odds to other punters) when you feel the odds aren't generous enough.
Betfair takes a commission of between 2%-5% on your net winnings on each market. Punters who have a net loss on a market don't pay any commission. Crucially, Betfair's system guarantees that the winner gets paid as soon as a market is settled. There is no risk of default, with punters unable to bet on credit. When the outcome is known, the winning party receives the dividend, less commission.
The Betfair Hub
The Betfair Hub is unique to the betting exchange and provides a gamut of racing and sports information to improve your punting.
Take advantage of Racing and Sports Models, Form Resources, Data Scientist, Ratings To Win, Betfair Racing Simulator and more. Learn how to bet better with Betting Principles and Strategies, plus you can enjoy free racing previews and results.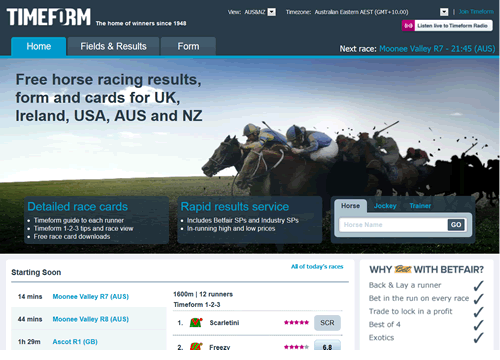 Features include full race-day schedules and Betfair prices, comprehensive form guides and racing stats, and complete historical archive of races, form and results.
Betfair Racing Page
At first glance, the Betfair Racing Page might appear full of information, but it's easy to find your way around – once you know what you're looking for.
The Betfair website has been designed for ease of use and they also have an excellent mobile website for betting on the run.
Betfair Australia
Betfair Australia is the only licensed betting exchange in Australia. A joint venture between Betfair in the UK and Publishing and Broadcasting Limited, it's licensed in Tasmania, with its main operation based in Hobart.
How to Join Betfair
Joining Betfair is a simple process. You can open a new account and start betting on the exchange very quickly by doing the following.
1. Go to the Betfair landing page.
2. Sign up and register a new betting account at Betfair.
3. Check any betting market via your desktop or mobile phone.
4. To place a bet, simply deposit funds into your account.
Once you're a Betfair member, you'll be able the ensure the best odds for your bet, just like the professionals do!
Safe and Secure at Betfair

Betfair is a secure site for online betting. Every bet is confidential, including who you are betting against. The only time your card details are sent over the internet is when you open an account. All user information is stored on Betfair's secure servers, and all funds are held by a secure, ring-fenced trust at the National Australia Bank in Hobart.