Kranji Racecourse
Kranji racecourse is the only race track in Singapore and it's located around 22 kilometres North-West of the Singapore city centre in the suburb of Kranji. The course opened in August 1999 and has received a Recognition Award from the Philadelphia Chapter of the American Institute of Architects for its 'fun' and 'whimsical' design.
Singapore's only racecourse is a world class track that boasts a state-of-the-art patron entry system, and a glass-sided horsewalk which goes through the grandstand and connects the parade ring to the race tracks.
The four-storey Grandstand with its one-of-a-kind roof structure, inspired by the enchanting image of a horse in motion, can host 30,000 racing fans with multiple levels of fine dining and entertainment. It's home to the Singapore Turf Club and was built at an estimated cost of around S$550Million.
Singapore Turf Club
The Singapore Turf Club (STC) was founded in 1842 as the Singapore Sporting Club. The STC is the only horse-racing club in Singapore, being part of the Malayan Racing Association, which also regulates the three Turf Clubs in Malaysia - the Penang Turf Club, Perak Turf Club and Selangor Turf Club.

Kranji Feature Races
In May, the Singapore Airlines International Cup (2000m) and KrisFlyer International Sprint(1200m) are high quality Singapore feature races held at Kranji racecourse. In November, the Singapore Gold Cup (2200m) takes centre stage and is the third leg of the Singapore Triple Crown. The Singapore Derby(2000m) for four-year-olds is held in July at set weights.
Visit our Singapore Horse Racing page for more detailed information on the Singapore Turf Club and major feature races held in Singapore each year.
Enjoy the best odds for your Kranji bets!
Kranji Race Track Details
The Singapore racecourse at Kranji consists of two tracks dedicated to racing; The main StrathAyr turf track and the alternative track on its inside, the Polytrack, or all-weather track as it is sometimes referred to in other parts of the world.
A 'Turfmeter' is used for track ratings with the following ratings applied;
Firm - 0 to 4.5cm
Good - 4.6 to 5.0cm
Yielding - 5.1 to 5.5cm
Soft - 5.6 to 6.0cm
Heavy - 6.1 and above
The other 4 tracks are typically utilised for trackwork.
Kranji StrathAyr Turf Track
The turf track at Kranji is among the best in the world with excellent drainage to enable quality racing throughout the year. It's 31m wide and is split between Long Course (2000m long) and Short Course (1800m long).
The width also varies across five Courses (A, B, C, D and E) with A in its true position and E at 14 m off the rails. The turf track has shown no bias towards either on-pacers or backmarkers and all horses have an equal chance of winning. Over sprint distances, it is normally advantageous to be drawn on the inside, especially with bigger fields (much the same for Polytrack).
Similarly, horses with a short burst tend to run better over the Short Course (home straight about 450m long), while horses who take longer to wind up tend to get up on time over the Long Course (home straight about 550m long).
Kranji Polytrack All-Weather Track
The Polytrack course at Kranji is 25m wide and 1500m long and since first being used in 2008 has proven very successful. Statistics in that period have shown horses drawn in and out, as well as on-pacers and backmarkers have equal chances of winning. The minimum kickback also ensures horses to be less hesitant to race close to each other.
Both StrathAyr turf and Polytrack have cambers on their turns allowing horses to turn at full speed with minimum stress.
Long Track:
Circumference: 2,000 metres
Straight: 550 metres
Direction: Anti-Clockwise
Short Track:
Circumference: 1,800 metres
Straight: 450 metres
Direction: Anti-Clockwise
Kranji Track Map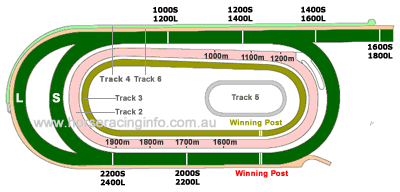 Along with the turf track for racing, the 1500m long Polytrack is also used regularly for racing, with training taking place on any of the other four tracks;
Track 2 - Polytrack - 1,500m long and 25m wide
Track 3 - Sand Track - 1,300m Long and 20m wide
Track 4 - Tapata Track - 1,000m long and 10m wide
Track 5 - Sand Track - 500m long and 8m wide
Track 6 - Training Track - 1600m long and 6m wide
Kranji Racecourse Contact Details
Singapore Turf Club
1 Turf Club Avenue
Singapore Racecourse
Singapore 738078
Ph: (65) 6879 1000
Fax: (65) 6879 1010
Email: Singapore Turf Club website
Kranji Racecourse Directions
How to get to Kranji racecourse?
MRT
Travelling to Kranji race track via the MRT will see you dropped off at the MRT Plaza entrance of the racecourse as the Kranji MRT station is located adjacent to the entrance. The MRT network joins the racecourse to the most popular areas of Singapore itself and the MRT trains run quite regularly
Public Bus Services
Bus routes SBS 160, 170, SMRT Bus 178, 925, 960 and 961 travel along Woodlands Road and stop in front of the Kranji MRT station.
Driving by Car
If you plan to drive to Kranji then you can take advantage of their superb four-storey carpark which can house up to 2,400 cars. There is a $5 parking fee which is payable via the Payment Booth by either cash or Stored Value Card (SVC). Motorcycles can park for free and and motor vehicles parked outside designated areas will be clamped
Taxis
Taxis will deliver you to the entrance to the Upper Grandstand. Check out Kranji Racecourse website for more information.