Ladbrokes Bookmaker Review

Ladbrokes is an excellent choice for betting for horse racing, especially with daily enhanced odds, and our Ladbrokes review will explain why we highly recommend them.
Since launching in Australia in 2013, Ladbrokes has quickly established themselves as a major player in the online betting world. They offer top odds on a wide range of Australia and International racing and sports events, and have outstanding promotions for members.
As expected with a highly regarded online bookmaker such as ladbrokes, punters are assured of a completely safe and secure online betting experience.
Ladbrokes is licensed by the Northern Territory Government and offer an extremely safe & secure betting environment for punters.
Why join Ladbrokes for Horse Racing?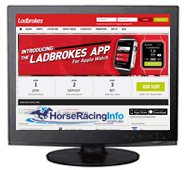 Ladbrokes offers racing punters top fixed price odds on horse racing including Best Of The Best (BOB), Best Tote, Top Fluctuation, Starting Price, and just about any other bet type you'd expect from a corporate bookmaker.
Ladbrokes also has a huge range of betting markets on both racing and sports and they cater for punters in a variety of ways, particulary with special offers.
Some of the Ladbrokes promotions are designed to add value to your betting. Enhanced odds are an exciting way to get more bang for your buck on the punt, and their Odds Boost is one of the most popular bet types on the market!
We recommend Ladbrokes for Horse Racing
Ladbrokes is highly recommended for betting on horse racing!

Best Of The Best and Best Tote bet types give you the best odds at Ladbrokes. Combined with their excellent promotions and the addition of their exciting member bet types, Ladbrokes is a wonderful bookie for racing punters.
Three reasons why you must have a Ladbrokes account.
| | |
| --- | --- |
| | Ladbrokes offers Best of The Best to give punters the best odds! |
| | Huge range of betting markets with excellent horse racing odds. |
| | Innovative member proomotions offer great value for money. |
Add Ladbrokes Mobile to place bets on the run and it's easy to see a Ladbrokes account is very worthwhile. Join Ladbrokes for free here
Ladbrokes Racing Bet Types

Ladbrokes offers most of the common bet types you will find at other online bookmakers in Australia, but they have endeavoured to provide value for punters by offering that little bit more whre possible.
Best of the Best (BOB)
With Best of the Best (BOB) at Ladbrokes, punters receive Best of the three Australian Totes or Top Fluc, whichever is higher. In simple terms, it means you can win more for your punting dollar. Just place your bet 35 minutes before the official start time of each Best Of The Best race.
Ladbrokes Tote Betting
Best Tote
Ladbrokes guarantees a payout equal to the highest win dividend of the Australian TAB with its Best Tote bet type. Best Tote + 5% adds an extra 5% on top of your Best Tote winnings.
Middle Tote
This bet type guarantees a payout equal to the middle Tote win dividend of the three Australian TABs. Middle Tote + 5% adds an extra 5% on top of your Best Tote winnings.
Nom Tote
Nom Tote allows you to nominate the tote price on selected events.
Other Ladbrokes Bet Types
Ladbrokes provides standard Win, Place & Each Way betting, along with Fixed Price, Top Fluctuation, Pre-Post betting and feature race Futures Markets.
Exotic bet types such as Quinellas, Exacta and Trifectas are also available at Ladbrokes.
Ladbrokes Promotions

Ladbrokes is very active with their member promotions. Since launching in 2013, they have provided plenty of quality promotions for members offering outstanding value for money.
Many of the top promotions available to Ladbrokes members are available on popular sports including AFL, NRL, EPL, NBA, NBL, NHL, NFL, racing and more. With so many special offers available at any given time, the best way to keep up with all the Ladbrokes offers is to have an account there.
Visit Ladbrokes and check their promptions for yourself.
How to Join Ladbrokes
Here's how to join Ladbrokes to become a member.
1. Go to the Ladbrokes website to open a new account.
2. Register your details and create a user name and password.
3. Login to your new Ladbrokes account and take a look around
4. If you fancy a bet then simply deposit funds into your account.
Take advantage of the Ladbrokes Mobile app to place bets on the run, anytime, anywhere.
About Ladbrokes Online Bookmaker
Ladbrokes has a strong ongoing committment to responsible gambling and is licensed by the Northern Territory Government. In Australia, Ladbrokes has offices in Melbourne, Sydney & Brisbane.
Ladbrokes is the Australian entity of Ladbrokes plc., a responsible leader in the betting and gaming operations. Ladbrokes plc, dates back to 1886 in England, and employs over 15,000 people across the UK, Europe and Australia.

Ladbrokes offers the most popular ways to deposit funds into your account, including Mastercard, Visa, Poli, BPay and Direct Bank Transfer.
Reasons to bet on Horse Racing with Ladbrokes
Best of the Best pays best of 3 TAB's or SP, whichever pays more
Best Tote betting gives you best of the 3 Australian Tote odds
Wide variety of betting markets with top odds for horse racing
Pre Post betting on major feature races in Australia and Overseas
Top ongoing promotions for members providing value for money