Ballarat Cup
The Ballarat Cup is a listed open handicap race held annually each November at Dowling Forest racecourse in Ballarat at the tail end of the Melbourne spring racing carnival. The race is run over a distance of 2200 metres and worth $300,000 in prizemoney. The 2016 Ballarat Cup was won by Pilote D'Essai from Scherzoso with Manageress third.
Dowling Forest racecourse is located around 113kms west of Melbourne and is home to one of the biggest and busiest training centers in provincial Victoria with almost 300 horses in work in the region. The track was renamed 'Sportsbet Ballarat' in 2014 following a 5 year sponsorship deal with online bookmaker Sportsbet.
2017 Ballarat Cup info
| | |
| --- | --- |
| Track: | Dowling Forest racecourse, Ballarat |
| Distance: | 2200 metres |
| Race Type: | Open Handicap |
| Status: | Listed |
| Prizemoney: | $300,000 |
| 2016 Winner: | Pilote D'Essai |
The Ballarat Cup has traditionally taken place two weeks after the Bendigo Cup but in recent spring programming changes the Bendigo Cup is now held on the Wednesday before the Melbourne Cup. Interestingly enough, the first two home in the 2014 Ararat Cup, Mujudale (2014) and At First Sight (2nd in 2014), managed to be the first two across the line in the Ballarat Cup just under two weeks later.
The Ballarat Cup was moved from a Wednesday to a Sunday in 2010 to fall in line with local council's effort to stabilise the city's public holiday and having the race on a Sunday enables more people from surrounding districts to attend the Cup when they would otherwise have been working.
The running of the Ballarat Cup brings a carnival like atmosphere to the city of Ballarat, and the Western District regional area in general, as they celebrate the running of their major cup for the year.
In 2013, the Ballarat Turf Club hosted the inaugural $200,000 Magic Millions Victorian Clockwise Classic on Ballarat Cup day in an exciting initiative for the Ballarat Turf Club and Magic Millions. It was first flat race held the reverse way of going in Victoria in more than 60 years.
Only two-year-old Magic Millions graduates are eligible for the 1000-metre event, largely made possible by the foresight of local identity and racehorse syndicator, Darren Dance, from of Australian Thoroughbred Bloodstock.
Shortly after, the $100,000 Magic Millions 3YO Classic was also introduced for three-year-old Magic Million graduates, plus the $100,000 Thomas Jewellers VOBIS Gold Eureka Stockade, in one of country racing's biggest cup day meetings of the year. The Ballarat Turf Club (BTC) offers over $1 million in prizemoney on Ballarat Cup Day, in a wonderful result for the club and the district.
Pilote D'Essai (2016) finished umplaced in a 4&5YO BM90 race over 1800m at Flemington before leading all the way in this event and recent Ballarat Cup winners include Junoob (2015) and Mujadale (2014).
Ballarat Cup Day information
Gates open: From 11.00am
Adult: $30
Pre-paid Admission: $25
Pensioners Concession: $20 (at gate only)
Kids under 16: Free
Ballarat Turf Club
240 Kennedys Road Miners Rest Victoria
Phone: 5334 6273
Fax: 5338 1821
email: ballarat@countryracing.com.au
Postal Address:
PO Box 125
Miners Rest Victoria 3354
Ballarat Track Map
The Ballarat race track is a big, roomy course with a circumference of 1900m and a long straight of 450m which caters to all racing types. It gives all horses an equal chance in running.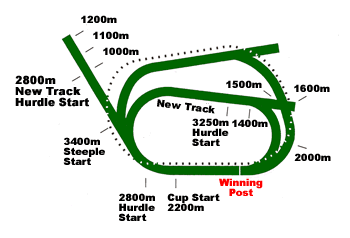 Spring Carnival Guide
The Ballarat Cup is run a couple of weeks after the Melbourne carnival ends and generally attracts handy country types who may have contested races like the Bendigo Cup in late October.
The last horse to win the Bendigo and Ballarat Cup double was Western Waters in 2003, while Majestic Avenue ran 2nd in the Bendigo Cup in 1999 before winning this race.
The big track and long straight of Dowling Forest racecourse lends itself to tough horses and suits gallopers with proven staying prowess.
2016 Ballarat Cup result
1. $16.00 Pilote D'Essai 54.0 Regan Bayliss
2. $19.00 Scherzoso 54.0 Ben Allen
3. $18.00 Manageress 54.0 Ms Michelle Payne
then followed
4. $21.00 Puccini 58.0 Craig Robertson
5. $8.50 Cool Chap 54.0 Daniel Stackhouse
6. $9.50 Lady Le Fay 54.0 Craig Newitt
7. $51.00 Desert Jeuney 56.0 Chris Symons
8. $19.00 Rising Romance 58.5 Mark Zahra
9. $12.00 Lord Van Percy 55.0 Dean Yendall
10. $9.00 Observational 55.0 Luke Nolen
11. $10.00 Nozomi 54.0 Stephen Baster
12. $6.00 Lidari 59.0 John Allen
13. $19.00 Taiyoo 58.5 Brad Rawiller
14. $31.00 Magnapal 56.0 Luke Currie
15. $13.00 Turnitaround 60.0 Blake Shinn
16. $31.00 Auvray 56.5 Harry Coffey
17. $101.00 Go Dreaming 54.0 Darren Gauci
Margins: 2 len, 0.75 len
Time: 2:14.14
Bet now on the Ballarat Cup
| | | |
| --- | --- | --- |
| | Get Best of the three Aussie TABs or SP with 'Top Tote Plus' | Bet now |
| | 'Best of the Best' guarantees best of three totes & Top Fluc | Bet now |
| | Better than three Australian TABs with Best Tote Plus | Bet now |
| | Best of fixed odds taken or best TAB odds with 'Best Tote' | Bet now |
Ballarat Cup recent winners & placegetters
| | | | | |
| --- | --- | --- | --- | --- |
| 2016 | Pilote D'Essai | Scherzoso | Manageress | 2:14.1 |
| 2015 | Junoob | Wales | Sonntag | 2:18.4 |
| 2014 | Mujudale | At First Sight | Fat Al | 2:17.8 |
| 2013 | The Offer | Pelicano | Hurdy Gurdy Man | 2:25.1 |
| 2012 | King Diamond | Pelicano | Exceptionally | 2:18.4 |
| 2011 | Domesky | Rothera | Sean Baile Mor | 2:19.2 |
| 2010 | My Bentley | Kidnapped | Allanthus | 2:17.0 |
| 2009 | Itstheone | Gallions Reach | Davcon | 2:14.4 |
| 2008 | Daka's Gem | Sentire | Banana Man | 2:21.8 |
| 2007 | Senfire | Bowl Along | Red Riviera | 2:23.9 |
| 2006 | Rubijon | Upstaged | Lancettier | 2:17.3 |
| 2005 | Command n Conquer | Maneroo Lue | Steelworker | 2:17.4 |
| 2004 | Just The Part | Irish Crusader | Demerger | 2:15.4 |
| 2003 | Western Waters | Delvecchio | Dance On Wood | 2:16.2 |
| 2002 | Varsilayos | As You Would | Sale Of Century | 2:15.0 |
| 2001 | Aquiver | Varsilayos | Adolescence | 2:14.0 |
| 2000 | Royal Caliph | Western Outlaw | Mayshiel | 2:16.3 |
| 1999 | Make A Scene | Majestic Avenue | Ancient City | 2:17.3 |
| 1998 | Royal Caliph | Luther | Laebeel | 2:18.5 |
| 1997 | Battocchi | Joegah | Like A Roo | 2:23.3 |
| 1996 | McGuane | Beau Heed | Wesley Boy | 2:21.2 |
| 1995 | Magical Storm | Change Of Fortune | Toil | 2:20.6 |
| 1994 | Unsolved | Dream About It | Toil Bell | 2:17.2 |
| 1993 | Dream About It | Long Tan | Halfpenny Queen | 2:16.1 |
| 1992 | Ahora | Infallable | Rasputins Revenge | 2:15.7 |
| 1991 | Mercator | Explosive Wonder | Sea Squall | 2:15.6 |
| 1990 | Tilted Toff | Prince Salieri | Princess Pushy | 2:16.1 |
| 1989 | Pressmans Choice | Malley Boy | Fail Proof | 2:14.5 |
| 1988 | Great Warrior | Super Impose | Wolveraction | 2:17.4 |