Sportsbet Bookmaker Review

Sportsbet has built an outstanding reputation for providing quality betting markets, wonderful horse racing promotions and exceptional customer service for its members.
Widely considered to be the number one betting agency in Australia, Sportsbet has stood the test of time in this country and should be one of the very first online bookmakers you join.
Sportsbet is home to some outstanding promotions for their members, offering plenty of value for money for punters!
Why join Sportsbet for Horse Racing?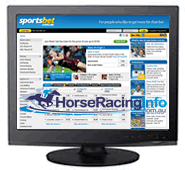 All punters should have a Sportsbet account as they are home to some of the best horse racing bet types available online.
They pay 'Best of 3 Totes or SP' on win bets for every horse race, plus they offer a number of fantastic racing products for punters.
Keep track of your horses to follow with a free BlackBook Service for members, and take advantage of their free Punters Club to have some fun with family and friends.
There are already plenty of great reasons to join Sportsbet but there's many more, including Super 6, Place Cards, free detailed form guides and racing results to name a few.
Operating in Australia for more than 14 years, Sportsbet is licensed in the Northern Territory by the Northern Territory Racing Commission. They offer a very safe and secure betting platform for betting online.
We highly recommend Sportsbet for Betting

We 'highly recommend' a Sportsbet account for betting on horse racing!
Sportsbet is a quality bookmaker when it comes to providing value in horse racing and they offer numerous racing bet types including, Top Tote Plus, Head to Head betting, Racing Futures, Top Fluc, Jockey Challenge and much more.
Three reasons why you must have a Sportsbet account
| | |
| --- | --- |
| | Enjoy Best of the three Australian TABs or SP for horse racing |
| | Free BlackBook service for racing to keep track of your horses to follow |
| | Free Punters Club and outstanding bet types for members |
Racing punters are well catered for at Sportsbet and we highly recommend them as one of the very first bookmakers you should join online. Join Sportsbet here today
Sportsbet Racing Bet Types

Sportsbet has a multitude of racing bet types and they also offer Place Cards & Quadrellas, which are not available at all online bookmakers in Australia. Any punter betting online in this country should have an account with this quality bookmaker.
Top Tote Plus
With Sportsbet's Top Tote Plus, you will always get the best return of all three TABs or the starting price on win bets on any Australian horse race. Every Race – Every Day.
How do punters get Top Tote Plus?
It's quite easy. Simply select the Top Tote Plus icon on the racecard alongside your horse! Once the Best Price comes in, that's what you will get paid! Better prices every race, every day at Sportsbet!
Top Tote Plus in action
The highlighted price below is the best and when betting with Top Tote, you will always get the best of the three tabs or the SP, which ever is better.
International Racing
Sportsbet punters have access to a great range of international horse racing betting markets including Win, Place and Each Way betting on selected events from places such as Hong Kong, Singapore, South Africa, New Zealand and England.
Place bets via the internet or phone enjoying top odds along the way.
Other Sportsbet Bet Types
Sportsbet also has Fixed Odds, Top Fluc and Starting Price betting, much like other bookmakers.
Take advantage of Flexi Betting, Racing Futures, All-Up Betting, Head to Head and Jockey Challenge, plus Instant multibet 10% odds boost rewards punters with 10% better odds on selected events.
Sportsbet Racing Exotics
Quinellas, Trifectas, Doubles, Trebles, First 4, Quaddies and Super 6 are all available for members and Sportsbet Racing Exotics are typically paid based on the final dividend paid out by the Home State TAB.
Sportsbet certainly have much to offer their members from a racing perspective. What are you waiting for? Get yourself a Sportsbet account here today!
More Reasons to bet on Horse Racing with Sportbet
Sportsbet has some of the best Horse Racing products online
Top Tote Plus
Get the better dividend of the three Australian TAB's or the Starting Price on all win bets.
Double
Select the winning runner of each race from the two nominated Daily Double races.
Multi Bet Feature
You can now combine Win, Place & Each-Way bets into the same Multi Bet at Sportsbet!
Treble
Simply select a horse to win in three consecutive nominated races and choose your stake.
Quadrella
Pick the winner in four quadrella legs and then choose your stake.
First Four
Select the horses in a race to finish 1st, 2nd, 3rd & 4th and pocket monster dividends.
Place Card
Simply select a horse to place in four designated races and nominate your stake.
Super 6
Pick the winner of the 6 consecutive races and win huge dividends if you get it right.
Exotics
Members can bet on Interstate Totes with Quinella Exacta Trifecta and First 4s
Flexibet
Bet a fixed stake on all racing exotics & multiple bets for a % of the dividend.
Note: Sportsbet terms & conditions apply to all internet promotions
More Sportsbet Bet Types Info
With so many bet types at Sportsbet we recommend you visit the Sportsbet bet types page for more definitive information of exactly what is available.
Learn more about the most common racing bet types in Australia at our Horse Racing Bet Types page where we provide a thorough explanation of the most popular ones.
Sportsbet Promotions

Sportsbet are without a doubt one of the premier online bookmakers as far as member promotions are concerned and there are far too many to mention here, but we will list the most popular ones.
Most Popular Sportsbet Promotions
Racing punters are well catered for with a free Blackbook Service to allow you to follow your favourite horses and receive an sms or email when they race next.
This is a wonderful service and FREE to all members. Visit the Sportsbet free Blackbook Service page for more details.
Spring racing at Sportsbet sees the very popular Spring Tipping Competition in play with big prizes on offer and FREE to enter for members.
Million Dollar Tipping
The extremely popular Sportsbet $1,000,000 AFL & NRL Football Tipping Competition is one of their major promotions. It's non-racing competiton which revolves around picking the winners for each round of AFL Football and NRL Rugby League in Australia. The AFL & NRL Footy Tipping competition is free to enter for all Sportsbet members.

If you punt on the horses and like to watch the AFL or NRL, then join Sportsbet's free tipping competition for your chance to share in over $1,000,000 in prizemoney, all for just being a Sportsbet member. Top value and simply another reason to join Sportsbet!
More Sportsbet Member Benefits
A number of other Sportsbet specials include numerous ongoing and one off promotions on novelty & special events. There are promotions aplenty at Sportsbet and if you are not a member then you are missing out big time on some remarkable offers.
Open a Sportsbet account
Sportsbet is a valued bookmaking partner of Horse Racing Info and this is how you open an account at Australia's most popular betting agency!
1. Visit the Sportsbet website and register a new betting account.
2. Create a new user name and password at Sportsbet
3. Login to Sportsbet to browse markets or deposit funds to bet.
Sportsbet has some of the very best promotions online. You would be wise to sign up right now to take advantage of their fantastic deals today.
About Sportsbet Online Bookmaker
Sportsbet is one Australia's best bookmakers and since establishing themselves many years ago they have carved out an outstanding reputation for making sure its customers get the best in products, odds and customer service.
Licensed by the Northern Territory Racing Commission in Australia, your money is safe and secure and ensures fast turnaround in payments.
Sportsbet allows you to deposit funds into your account by Credit Card, BPay, Money Order, Cheque or through Direct Deposit.

Sportsbet is a Verisign Secure site and there are no charges for any Credit Card handling fees or deposit or withdrawal fees no matter what the method.
Reasons to bet on Horse Racing with Sportsbet
Free Black Book service to receive Email or SMS notification on horses to follow.
Top Tote Plus for better dividend than declared by the three Australian TAB's.
Sportsbet Flexi betting on Thoroughbred Quinella, Trifecta or Exactas.
Place Card available for selected Metropolitan and Feature Country races.
Live vision of racing and sports and top mobile betting app.
Sportsbet Million Dollar Tipping with up to $1,000,000 in cash & prizes.