Seymour Cup
The Seymour Cup is a Open Handicap open handicap 1600 race held annually on a Sunday at Seymour racecourse during the Melbourne Spring racing carnival in mid October. The race is run over a distance of 1600 metres and worth $150,000 in prizemoney. The 2015 Seymour Cup was won by Turn Me Loose from Scream Machine with Garud third.
The Seymour Racing Club is situated just off the Hume Highway, 100km from central Melbourne, and is located in the heartland of Victoria's Thoroughbred Country, the home of Darley, Swettenham and Chatswood Studs.
Following a $5.15 million track upgrade the Seymour Cup was not run in 2016.
2017 Seymour Cup info
| | |
| --- | --- |
| Track: | Seymour racecourse, Seymour |
| Distance: | 1600 metres |
| Race Type: | Open Handicap |
| Status: | Listed |
| Prizemoney: | $150,000 |
| 2015 Winner: | Turn Me Loose |
The Seymour Cup is an above average country cup and generally assembles competitive horses on the country circuit while every now and then a good class city galloper may make the trip to Seymour for the easier pickings on offer.
Turn Me Loose (2015) finished runner-up in the listed Headquarter Stakes over 1400m at Flemington before scoring an outstanding victory in this event and recent Seymour Cup winners include Bel Thor (2014) and Sysmo (2013).
Spring Carnival Guide
The race is a country cup over the shorter distance of 1600m and is not traditonally a good guide to the major middle distance or mile races of the spring carnival, although Turn Me Loose (2015) headed to Moonee Valley at his next start to win the Gr2 Crystal Mile before winning the major mile race of the spring, the Gr1 Emirates Stakes.
Tears I Cry (3rd in 2007) placed in the Crystal Mile at his next start on WS Cox Plate day before going on to win the the Emirates Stakes on the final day of the Flemington carnival.
Seymour Cup Day info
Gates Open: 10.30am
Adults: $20
Concession: $15
Children 16 and under, free when accompanied by an adult
Seymour Racing Club
55 Kobyboyn Road (Po Box 85)
Seymour, VIC, 3660
Tel: 03 5799 1681
Seymour Track Map
Seymour race track has a circumference of 1800m with a straight length of 380m. The soil is sandy loam and provides an all weather grass track throughout the year. All races up to 1300m have to negotiate only one turn. which is the turn into the straight.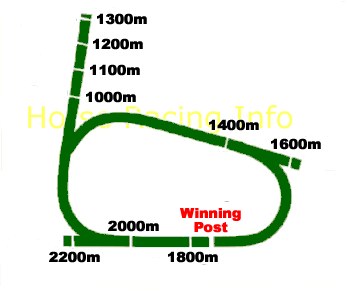 2015 Seymour Cup result
1. $2.90 Turn Me Loose 60.0 Opie Bosson
2. $20.00 Scream Machine 56.0 Mark Zahra
3. $12.00 Garud 54.0 Ryan Maloney
then followed
4. $10.00 Tall Ship 58.0 Brad Rawiller
5. $4.60 Burning Front 54.0 Craig Williams
6. $18.00 Sysmo 55.0 Ben Melham
7. $17.00 Wish Come True 57.5 Glen Boss
8. $9.50 Madam Gangster 57.0 Blake Shinn
9. $20.00 Minnie Downs 54.0 Craig Newitt
10. $26.00 Electric Fusion 54.0 Michael Dee
11. $26.00 Guest Of Honour 58.5 Damian Lane
12. $61.00 Calvin Williams 59.0 Luke Currie
13. $151.00 Tanby 57.0 Damien Thornton
14. $201.00 Takeover 54.0 Jarrod Todd
15. $201.00 I Feel Good 54.0 Darren Gauci
Margins: 3.25L, 0.75L
Time: 1:35.0
Bet now on the Seymour Cup
| | | |
| --- | --- | --- |
| | Get Best of the three Aussie TABs or SP with 'Top Tote Plus' | Bet now |
| | 'Best of the Best' guarantees best of three totes & Top Fluc | Bet now |
| | Better than three Australian TABs with Best Tote Plus | Bet now |
| | Best of fixed odds taken or best TAB odds with 'Best Tote' | Bet now |
Seymour Cup recent winners & placegetters
| | | | | |
| --- | --- | --- | --- | --- |
| 2015 | Turn Me Loose | Scream Machine | Garud | 1:35.0 |
| 2014 | Bel Thor | Our Hand Of Faith | Another Prelate | 1:36.4 |
| 2013 | Sysmo | Proverb | Lord Wimble | 1:36.6 |
| 2012 | Callanish | Over Quota | Tribal Rock | 1:36.4 |
| 2011 | Tiakinui | Smoulder | La Rocket | 1:35.7 |
| 2010 | Our Lukas | Conquering | Red Colossus | 1:35.5 |
| 2009 | Mandela | Pillar Of Hercules | Excelltastic | 1:35.7 |
| 2008 | Aztec Smytzer | God's Hand | Dorabella | 1:35.7 |
| 2007 | Correct Amoondo | You Sexy Boy | Tears I Cry | 1:37.4 |
| 2006 | Thin And Crispy | Hidden Strings | Lifes A Bounty | 1:36.1 |
| 2005 | Lifes A Bounty | Stamen | Requisite | 1:34.6 |
| 2004 | Stamen | Mooball | Fonome | 1:35.9 |
| 2003 | Storm Attack | Burglar | Tooborack | 1:36.1 |
| 2002 | Dane River | Brittish Buska | Gunnamatta | 1:34.3 |
| 2001 | Elkabayo | Aquiver | Prince Benbara | 1:34.9 |
| 2000 | Panoramic Lad | Gold Boom | Vetyvere | 1:35.7 |
| 1999 | Typhoon Barney | Stormy Jim | Honourable Mention | 1:35.9 |
| 1998 | Final Teppo | Party Prince | Siri Nelg | 1:36.9 |
| 1997 | Shistaad | Video Fan | Reeperbahn | 1:37.8 |
| 1996 | Video Fan | McGuane | Confirmed Bachelor | 1:39.2 |
| 1995 | Toil | Grey Alex | Sockerano | 1:36.7 |
| 1994 | Spring Theme | Strike High | Sable Dreamer | 1:37.7 |
| 1993 | State Taj | Lord Keitel | Blame | 1:40.3 |
| 1992 | Coolong Road | Mamzelle Perdu | Time Of My Life | 1:38.0 |
| 1991 | Purple Curse | Ritual Star | High Waters | 1:38.1 |
| 1990 | Zaparri | Brilliant Invasion | Universal Ambition | 1:33.5 |
| 1989 | Cosign | Mind My Boy | Black Charleston | 1:39.5 |
| 1988 | Water Boatman | Springfield Lad | Kingston Lane | 1:38.5 |